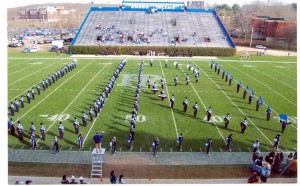 At the March 19 meeting of the Rhode Island Board of Governors of Higher Education, the board was supposed to discuss the tentative agreement that had been ratified that very same day by URI faculty. Unfortunately, because of the disruption of this meeting by Occupy URI and the Raging Grannies, the board was so shocked that thediscussion about the tentative agreement had to be postponed. At least, that was the story line originally put out by the board. It now seems that the tender soul of the board was so traumatized that it even postponed a meeting originally planned for April 2.
At its meeting this week, on May 7, a bitterly divided board rejected the tentative agreements with faculty at URI in addition to agreements with professional staff associations at RIC and CCRI, and the agreement with URI's graduate assistants.
Here is what I had to say at the public forum at the May 7 meeting:
I am a member of Occupy URI and affiliated with The Ad Hoc Committee to Defend the University. Governor Chafee interjected himself in the contract negotiations stating that a 3 percent raise is unacceptable "in a time of strained state finances." He turned eleven month process into a farce. Take into account the increases we pay for health care and you find that faculty have been sliding back for at least five years. Meanwhile, America's CEOs leap forward by 15 percent in a second year of double-digit income hikes. More than a decade ago Lehman Brothers advised their clients: "[…] we can privatize the educational system, make a lot of money of it."

How is this done? One engages in union busting, assaults faculty tenure, and puts CEOs in charge of universities. Here are some numbers:

URI's former CEO got a 14 percent raise in 2008-09.
Our former CEO cashes in with a retirement incentive of 40 percent of his $183,000 current "faculty" salary. Last time I checked faculty salary was about $100k per year. Hey, you got to show your former CEOs a little love!
Our current CEO started off at about 25 percent more than his predecessor ever made.
Between 2004 and 2010 spending on instruction and academic support declined by 10 percent; spending on administration increased by 25 percent. Meanwhile, this board justifies tuition hikes by claiming concern for quality education!

Explaining the perverse priorities of this nation in three minutes is tough. Let me just mention that we spend $4,000 per person per year to support the imperial war machine. For a quarter million dollars per person over a lifetime we could have free public education for all, and then some!

Rather than making a trip to Washington to do something about this immoral waste of money, governor Chafee went to Afghanistan just last week to boost the war economy.

If you want to do something about state funding, call Speaker Gordon Fox. Tell him to stop blocking a floor vote for the Cimini-Miller Tax Fairness bill (H-7729). The idea contained in the bill has the support of 70 percent of the Rhode Island population: it would undo the Carcieri tax cuts for the rich and generate $135 million additional revenue per year. Fox's telephone number is 222-2466.

Is it a surprise that in this time of unrelenting attacks on educators and their unions, the California Faculty Association produced a 95 percent voting majority authorizing a September strike?

Under these circumstances, I will vote for any job action the AAUP might propose!
Bringing more bad news from the privatization front, Peter Kerwin posted the following message on the
Occupy URI Facebook site:
"Hi there. I'm looking to talk to someone in the organization about trying to compile stories from students about bad private student loans. Please contact me at pkerwin3@cox.net so we can set up a meeting. I am the Chief of Program Development at the Rhode Island Higher Education Assistance Authority and am trying to get some of this info to a ProJo reporter who has expressed interest in doing a story. My agency has been the subject of a hostile takeover by the Rhode Island Student Loan Authority, a private student loan business which is trading on its very thin connection to the state to trick students into taking their private loans, which are not as consumer-friendly and lack the repayment options that come with federal student loans. Thanks!"
Peter Kerwin was fired from his job, as of May 1, after a board meeting that took place on April 20. All of this happened –oh, coincidence!– after he filed a whistle blowers complaint with the Attorney General's office, the Federal Trade Commission, the Consumer Financial Protection Bureau, and the US Department of Education. The complaint was that "members of the Rhode Island Student Loan Authority board have a potential financial stake in taking over Rhode Island Higher Education Assistance Authority and its data."
The takeover is part of an ongoing process of privatization of student loans, something that was introduced as part of the reconciliation process of the Affordable Care Act, which should probably be known as the Care and Feeding of the 1% Act. We are planning to post a steady drip of information about this issue on the Occupy Facebook page in the coming weeks.
Finally it is worth mentioning that the May 6 edition of the Providence Journal reported that "the board chairman is trying to build support for the Office of Higher Education absorbing the Rhode Island Higher Education Authority." Or might that be the Rhode Island Student Loan Authority, possibly with all the problems mentioned by Peter Kerwin? Sounds like an interesting development; let's see who will take over whom.