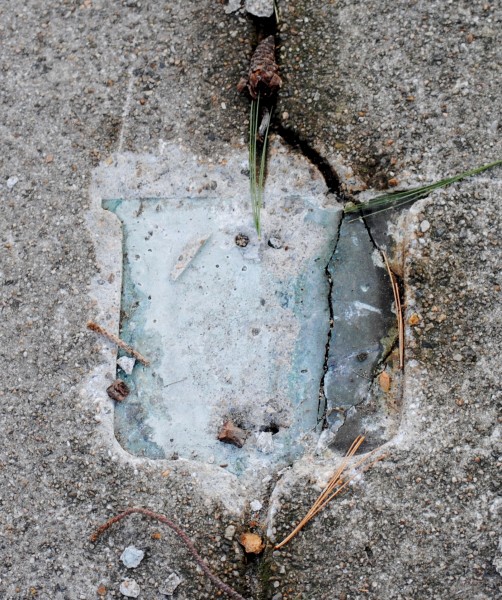 It took too long, but eventually, after the election of FDR, the United States got around to actually doing something about the Great Depression. The Works Progress (or Work Projects) Administration (W.P.A.) started putting Americans back to work, Keynesian style, in 1935. Economists may argue about the efficacy of stimulus programs, but one benefit cannot be argued:
The W.P.A. built sidewalks, parks and public buildings that I, and countless others, still use everyday. I enjoy the safety of not walking in the street and a weekly farmer's market at a nearby park because from 1935 to 1941, the United States did not just pay people to work, it invested in our infrastructure.
Most of the work done by the W.P.A. is adorned with simple and elegant plaques. The plaques were built to endure, and they have. These beautifully designed monuments to a time when the United States was smarter and less beholden to crank economic theories based on greed and the punishment of the poor are all around us, 80 years later. We all reap the benefits of this investment. I foresee enjoying these parks, walkways and other amenities long into my senior dotage, thanks to investments made 30 years before I was born.
Has anything of similar value come out of our recent Great Recession? Where are the new bridges and bike paths, green energy systems and smart grids, refurbished parks and improved public facilities? Where is the legislation to prevent future catastrophes? Where are the criminal prosecutions for economic malfeasance?
They don't exist. Not only did we learn nothing from the Great Recession, we've forgotten everything we learned from the Great Depression.
Below is a collection of W.P.A. plaques I've photographed in and around Providence. I hesitate to say exactly where I found these plaques, because of the picture above, taken in Roger Williams Park, where many of the roads, bridges and sidewalks were built by the W.P.A. from 1935-1940. The picture shows a piece of sidewalk in the park where a W.P.A. plaque has been forcibly removed, most likely stolen by someone hoping to make a few dollars from a scrap metal dealer.
That our most vulnerable populations finance themselves through the theft and sale of scrap metal serves as a demonstration that our nation not only continues failing to properly invest in the future, we don't even bother investing in the present. As a result we have begun the process of cannibalizing our infrastructure for petty cash.
Is it too late to turn this all around?
We can invest in our future by investing in the present. The W.P.A. shows one means by which investing in exciting projects today translates into real payoffs for the future. The interstate highway system, the moon landing and the Internet are more examples of investments that continue to pay dividends. If we were willing to, large investments in education, clean energy and financial regulation would reap enormous rewards for our children, and put parents to work today, on projects they can be proud of.
Not only can we can do it again, we can do it better.