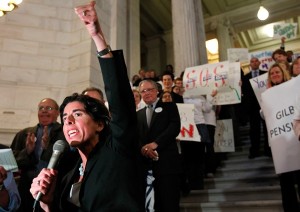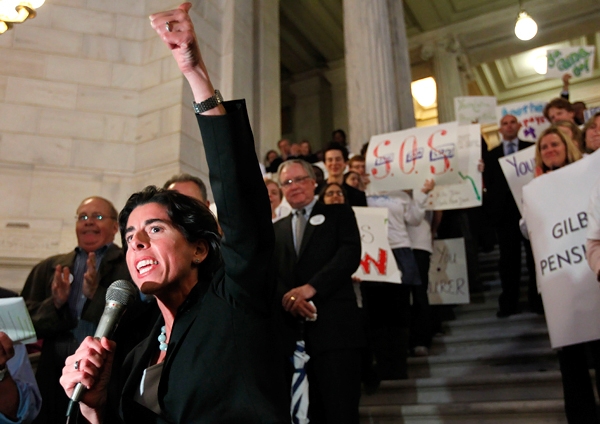 Future generations studying Rhode Island at the turn of the 21st Century will be embarrassed when they get to the part on pension politics.
Those were the days, they will note, when economic growth hit a bump in the road and some of the richest people in society launched a very expensive, targeted and secretive campaign to take from the people who work for the people.
Those future historians will see that the ultimate losers in this "landmark reform" were the only ones who played by the rules and paid their fair share. There's just so much inherently wrong with that, and history never judges such circumstances kindly – even though they probably all seemed to be the best course of action in the present tense.
And, of course they will see a Wall Street millionaire who made her foray into politics to accomplish this taking. And they will see that she used a Wall Street billionaire's dark money to do it. And they will see, in the short term at least, that the taking didn't end up as savings but rather a transfer of wealth to other Wall Street millionaires and billionaires.
But those future historians studying Rhode Island will also see a society that tied itself in all sorts of logical knots to pull this off.
They will see that we calculated the costs of pensions much differently than any other public spending item. Imagine what the "unfunded liability" would be for even a single school or for corporate tax subsidies to CVS alone!
They will see that the same labor leaders who were fighting against pension cuts were also begging to repeal the tax cuts given to Rhode Island's richest residents while pensions were being underfunded. They will see that as we were cutting pensions, we were also ensuring that Wall Street bondholders would always get paid before said pensioners.
And those future historians will see that the biggest newspaper and radio station in the state engaged in a borderline misinformation campaign through their wildly one-sided opinion and analysis of the situation.
And those future historians will see that a "haircut or a beheading" was a mantra in Rhode Island.
And to that end I am glad the state workers, public school teachers and retirees – who were so clearly treated like an oppressed class of people throughout the era of pension political football (even if they did manage to swing a decent deal for themselves back when everyone thought growth was infinite) -took back even just a small slice of their dignity when they state shied away from being taken to court for its "landmark pension reforms."
To my mind, $230 million is small price to pay for Rhode Island's reputation as a decent society. It means for the rest of history we get to answer, "Not us, we settled out of court instead" when asked: "Hey isn't Rhode Island the state the ruthlessly screwed over its teachers and plow drivers like a bunch of fist-wagging Wall Street barbarians searching for public sector blood?"
Why the pension settlement was a good deal for future taxpayers

,