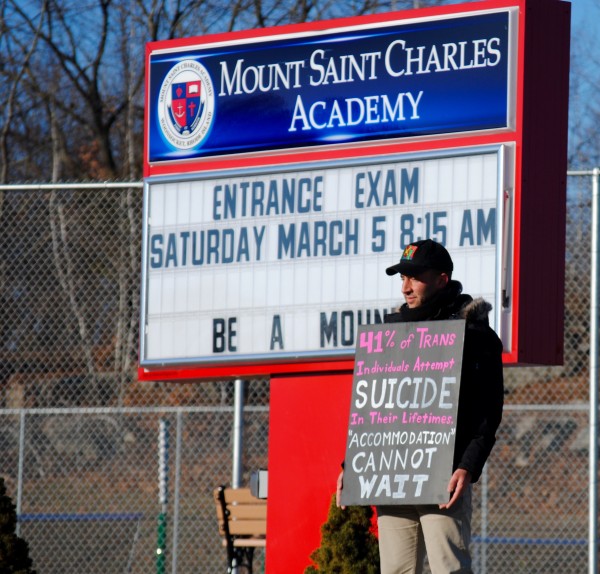 YouthPride, a gay rights advocacy group for young Rhode Islanders, "strongly opposes Mount Saint Charles Academy's policy banning transgender students from the school," according to a statement sent Saturday night.
YouthPride reached out to the exclusive Catholic school in Woonoskcet "to offer information and professional development on best practices for supporting transgender students," according to the release sent by Executive Director Kerri Kanelos, after GoLocalProv reported on Friday the school has a policy against accepting transgender students.
The news enraged former students and gay rights advocates all over Rhode Island.
The private school, which receives some public funding, responded to the criticism with a statement that said, in part: "Mount Saint Charles Academy deeply regrets the unintended hurt feelings at and seeming insensitivity of our policy regarding the acceptance of transgendered young people.  The policy that currently appears in the Mount Saint Charles Student Handbook is not intended to be discriminatory toward transgendered students nor is Mount Saint Charles Academy's intent or desire to exclude transgender students.  The policy was put in place for the simple reason that Mount Saint Charles feels that its facilities do not presently provide the school with the ability to accommodate transgender students."
YouthPride, in its statement, said this "is not an acceptable solution to being unprepared to provide a safe and supportive learning environment."
Said Kanelos, ""I am encouraged by the passionate allies, including hundreds of MSC alumni, who are asking the school to reconsider the policy and work together towards a solution that supports students while respecting the school's mission. "It is clear that people care deeply about the Mount Saint Charles community and want to ensure that their school is inclusive and supportive."
Mount Saint Charles said no transgender students have been denied admission to the school based on gender identity.