At the third and probably last community meeting being held by the Rhode Island Department of Health (RIDOH) to discuss the potential closing of the Memorial Hospital Birthing Center, well over a hundred people turned out to speak. Since the massive protest outside Care New England's offices last week the movement to keep the birthing center seems to have grown. One speaker at this community meeting drove over an hour to speak her piece about the closing, because the birth of her child at Memorial four years ago was such a positive experience and so important to her.
Care New England announced the closing on March 2, RIDOH Director Dr. Nicole Alexander-Scott scheduled three hearings because under the law, RIDOH must approve any such closing. The process is called a Reverse Certificate of Need and there are procedures connected to the process that Care New England seems to have skipped when announcing the closing of the birthing center. The process is "intended to ensure access to quality health services and healthcare throughout Rhode Island." Dr. Alexander-Scott has ruled that she must approve or deny the facility's proposal within 90 days.
Chris Callaci, an attorney representing the nurses who will lose their jobs if the facility closes, pointed out that Care New England has not actually filed a plan for closing the birthing center, as required by law. The public, he says, is being forced to comment on a plan without any of the details of the plan. Further, he says that scheduling the hearings with barely a week's notice may be a violation of the law. Calico claims that the first meetings must be scheduled no earlier than thirty days after Care New England has submitted a complete plan.
Because of the vagaries of RI public hearing law, the officials in attendance do not comment or answer questions from the public. So Dr. Alexander-Scott, Executive Director Ana Novais and Chief Legal Council Kenny Alston sat silently as patients, medical professionals and community members spoke out against the birthing center's closure.
Many who live in Pawtucket and surrounding areas object to having their inpatient obstetrics services moved at the 11th hour to Women & Infants or Kent County Memorial Hospital. To interrupt pregnancy care for women who plan to deliver in April and May is a terrible physical and emotional inconvenience for mothers and families, never mind the increased travel time and the last minute loss of a doula.
One woman who is due in early May said that the only information she has received on the closing of the Memorial Hospital Birthing Center has been from those advocating against the closing. Official communication from Care New England has been scant.
Central Falls Mayor James Diossa said he is very concerned about the interruption of services at the birthing center. But he stopped short of calling on Care New England to change their plan. He simply wishes to be involved as a community partner to make the transition as safe as possible for the residents of Central Falls and Pawtucket. This is similar to the position staked out by Governor Gina Raimondo, who has announced no plan to intervene in the closing but who says she understands the pain being caused "as a mother."
A doula testified that despite Care New England's promise that all providers would be credentialed at Women & Infants or Kent, there is no process in place for her to be credentialed. In fact, Women & Infants requires an OB/GYN be present during the process. Since Memorial functions as a community service provider, there is no way most people who use Memorial Birthing Center can afford to have two providers present during the birth of their child.
This has the effect of medicalizing birth, something many women who wish to deliver their children object to.
"If Memorial closes," said a mother planning to deliver in June, "my choices will be to have a home birth, which I do not want, or go to Cambridge. There is no other place offering the options I want."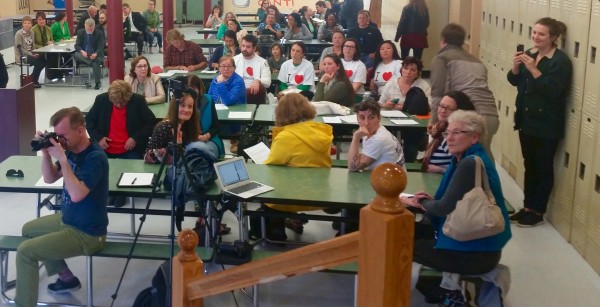 Community speaks out to defend Memorial Hospital Birthing Center from closing

,