Nabisco made the announcement in January.
"They said, 'we're laying off 600 people, we're sending the production down to Mexico, you can basically deal with it,'" explained Nate Zeff, of the BCTGM International Union. Zeff was in Rhode Island to explain the plight of the Nabisco 600, workers who once made products such as Oreos, Honey Grams, Fig Newtons, Animal Crackers and Ritz Crackers in Chicago, who watched as their good paying jobs were sent to Monterrey and Salinas Mexico.
The workers were told that they could prevent the company moving to Mexico, said Zeff, if they would agree to a staggering $46 million a year in concessions, in perpetuity; an impossible demand to make of working class families.
Mexican workers are paid a tiny fraction of what United States workers earn, allowing Nabisco to pay starvation wages in one country while wiping out an entire community of workers in another. And lest you think these savings might be passed along to consumers, think again. The money 'saved' is funneled directly into the pockets of overpaid corporate executives like Irene Rosenfeld, CEO of Nabisco parent company Mondelez International, who made a shame worthy $21 million in 2015.
To counter Nabisco's move, and to bring these jobs back to the United States, the BCTGM has announced an audacious plan: A targeted boycott of Nabisco products made in Mexico. There are two ways to determine if a product on the shelf is made in Mexico, as seen in the video and picture below. One, the package may simply have the words "Made in Mexico" in the fine print near the ingredients label. Otherwise, check out the "plant identification code." MM and MS stand for Monterrey and Salinas, Mexico, respectively.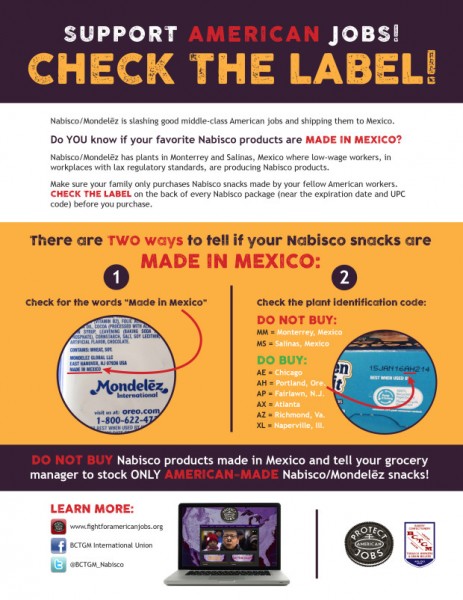 There are a couple of things to note about this boycott. One is that there are still plants in the United States making Nabisco products. This boycott is not against all Oreos, it's a targeted boycott against Oreos made in Mexico. Note also that it's not enough to simply not buy the Mexican made products. Take the product to the store manager and tell them why you are not buying.
Sure, the manager will say that they are not responsible for ordering the product, or that they have no control over where the product comes from, but if enough people complain, the complaints will start their way up the chain of command.
Anthony Jackson, a disabled veteran, was also in Rhode Island as part of the tour. He had a job paying him $26 an hour, now that job has gone across the border to a worker who makes less than $100 per week. "This is a $35 billion corporation," said Jackson, "the Oreo alone made $2.9 billion last year."
Jackson was at a shareholder's meeting and asked CEO Rosenfeld why the company couldn't treat Chicago workers fairly. Rosenfeld said the workers received "fair-market value."
"To this day we've received zero dollars and zero cents," said Jackson, "So what [Rosenfeld] said to us is that we are nothing."
Jackson had five requests for those who want to support this effort.
1. Go to fightforamericanjobs.org and learn more about the boycott and the Nabisco 600.
2. Like their Facebook page.
3. Call the number on Oreo packages and complain about the fact that American jobs are being lost even as Mexican labor is being unfairly exploited.
4. Check the label (as seen above) for the country of origin and don't buy made in Mexico products
5. Tell somebody. Spread the word. "We want to be the first company to bring production back from Mexico," said Jackson.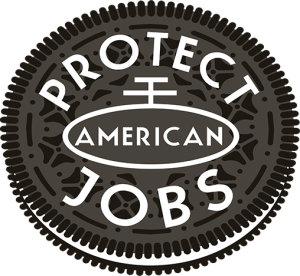 Buy American-made Oreos and save American jobs

,