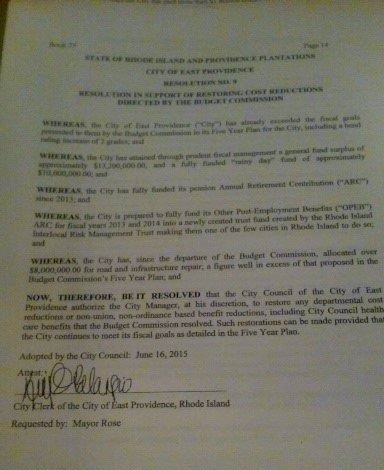 In 2012, East Providence's state appointed budget commission voted to end the City Council's health benefits. At the time East Providence was one of only 9 cities in R.I. that offered health insurance to its City Council members. However, in October of 2015, it became clear that some members of the City Council had started to receive health benefits once again.
During the City Council meeting on October 5th, resident and taxpayer Izilda Teves ​questioned the council as to how the benefits were restored. Mayor T​ommy Rose ​first claimed that it, "was done in a resolution… a while back," and that P​aul Lemont, ​Acting City Manager, had restored the benefits. Teves then asked if there was a public hearing, and Rose said there was not.
Three Council members opted for health benefits when the rules changed, T​ommy Rose,​ H​elder Cunha, and Timothy Conley​, ​the same three that addressed Teves' questions.
This month a version of the resolution Rose mentioned began circulating on social media. The resolution seems to grant the City Manager the ability to restore health benefits and reads, "Now, therefore, be it resolved that the City Council of the City of East Providence authorize the City Manager, at his discretion, to restore any departmental cost reductions or non­union, non ordinance based benefit reductions, including City Council health care benefits that the Budget Commission resolved.​"
However, the version of this resolution at City Hall does not include the language granting the City Manager the ability to restore health care benefits, nor does the version that appears in the meeting minutes, the Resolution Book seen here.
Resolution 9 was approved during a City Council meeting on June 16th, during which the City Council members opted to suspend the reading of the resolution. All City Council members voted in favor of the resolution.
For a sitting City Council and/or the City Manager to grant benefits to themselves is a dubious practice. According to the City Charter, Council compensation is supposed to be changed by ordinance and take effect for the following term. Spending ​almost $50,000 on benefits for Council members should be a matter of public debate.
Some East Providence residents on the East Providence – Townie Civic Discussion Facebook group say this incident once again raises red flags regarding the city's management of personnel issues.  Recent allegations of racially biased city hiring practices, ​the poor decisions that lead to the almost hiring of the Dancing Cop and the problematic hiring of a new Town Manager without the qualifications mandated by the City Charter all contribute to an air of incompetence if not illegality.
Before trust in the City Council erodes completely, a proper investigation into the source of these new health benefits must be conducted.
EP City Council members receive mysterious health insurance benefits

,