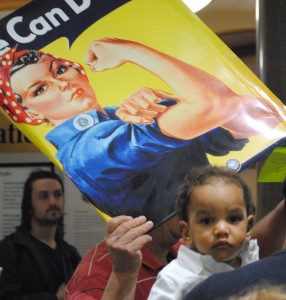 As the Providence City Council considers implementing a $15 minimum wage ordinance for local hotel workers, it's important to remember the Capital City would be by no means the first municipality to legislate a low-wage threshold.
Seattle made national news Monday for passing a $15 city-wide minimum wage, giving the left-leaning Northwestern metropolis the highest minimum wage law in the country. "Seattle wants to stop the race to the bottom in wages," Councilman Tom Rasmussen said.
"This progressive and expensive city struck a blow against rising income inequality Monday when the City Council voted unanimously to raise the minimum wage to $15 an hour, the highest municipal minimum of any metropolis in the country and the rallying cry of fast-food workers and union organizers nationwide," wrote Maria L. La Ganga of the Los Angeles Times.
And across the country, many other municipalities are considering city-wide minimum wage laws.
Chicago lawmakers put a $15 minimum wage ordinance up for discussion last week, Reuters reports. The San Diego City Council is considering putting a $13.09 minimum wage ordinance to voters. But New York City could also be the next big city to implement a local solution to low wages. Mayor Bill de Blasio this weekend helped Gov Andrew Cuomo agree in spirit to allowing NYC to implement a $13 minimum wage. Earlier this year, Portland, Maine considered a municipal minimum wage too.
There are only a handful of cities around the country with all-encompassing municipal minimum wage ordinances, and they seem to come in clumps. SeaTac, Washington, the city that grew up around the Seattle-Tacoma airport, implemented by voter referendum a $15 minimum wage last year. Sante Fe, New Mexico passed the first city-wide minimum wage law in 2004, and was then joined by Albuquerque and several New Mexico counties. San Francisco also passed a minimum wage bill in 2004, and neighboring Oakland, San Jose and Richmond now have similar laws. There is a minimum wage law in Milwaukee, Wisconsin (and similar efforts afoot in Eau Claire and Lacrosse). New Orleans and Washington DC each have minimum wage laws.
According to 2011 data from the National Employment Law Center, there are more than 100 cities around the United States with living wage ordinances, many which apply specifically to businesses and industries that receive public assistance The Renaissance Hotel, from where the Providence effort emanated, received a $1.4 million property tax break from the city this year.
Los Angeles is considering a hotel-industry specific $15.85 minimum wage bill, much like the one in Providence. The proposal there exempts hotels will fewer than 100 rooms, and the Providence version exempts hotels with fewer than 25 rooms. In LA, hotel employees in the LAX neighborhood have had a minimum wage law protection since 2007.
Hasira S. Ashemu, the senior communications specialist for Los Angeles Alliance for a New Economy … pointed out the increase is already present in certain areas of the city. Hotel workers in the immediate vicinity of Los Angeles International Airport are a paid a minimum of $15.37. The wage was established in 2007 after the city adopted a "living wage" ordinance, raising the rates of hotel workers and LAX employees.
Here in Providence, Mayor Angel Taveras, who is running for governor, told WPRI he would like to study the idea.
There's been some research done already, as Seattle debated a minimum wage. According to the Seattle Times today:
What have the effects been on employment?

Almost none, according to economists at the University of California, Berkeley, who have studied San Francisco, eight other cities that raised their minimum wages in the past decade, and 21 states with higher base pay than the federal minimum.

Businesses absorbed the costs through lower turnover, small price increases at restaurants, which have a high concentration of low-wage workers, and higher worker productivity, the researchers found.