Step One: Form a "Fiscal Commission" tasked with developing a plan (with the end result of implementing the plan) to reduce the budget deficit during the worst economic crisis since the Great Depression.  This will be done by slashing spending on social services, MediCare, Social Security, education, etc. (all the things that working folks depend on), but not the military budget, bailouts for banks, corporate subsidies to businesses sending jobs overseas, etc.  Check!
Step Two: Ignore the growth of income inequality in the U.S. over the past 30+ years, which is actually at the root of the economic problems the country faces.  Don't even mention it, and especially don't do anything about it.  Check!
I have watched in shocked horror over the past couple weeks, as conservative deficit hawks enabled by the Democratic Party, have marched toward a fiscal austerity program that will take the depressed and down economy and pummel it to a bloody pulp.  This is all being done in order to alleviate some mythical inflationary pressure that wealthy bankers are terrified of (remember, inflation is the biggest enemy of accumulated wealth).
Of course none of this really matters to the tens of millions of people who are looking for work, have had their hours cuts, have been forced into part-time work, or are in fear of losing their jobs (55% of all adults in the labor force have been affected by this recession in some way).
The real problem is that people aren't spending money because of the recession, and that is directly related to the growth in income inequality, albeit in complicated ways.  Since the 1970s, U.S. wages have largely remained stagnant.  At the same time, the vast majority of all the wealth created in the country over the last 30 years has been flowing upward.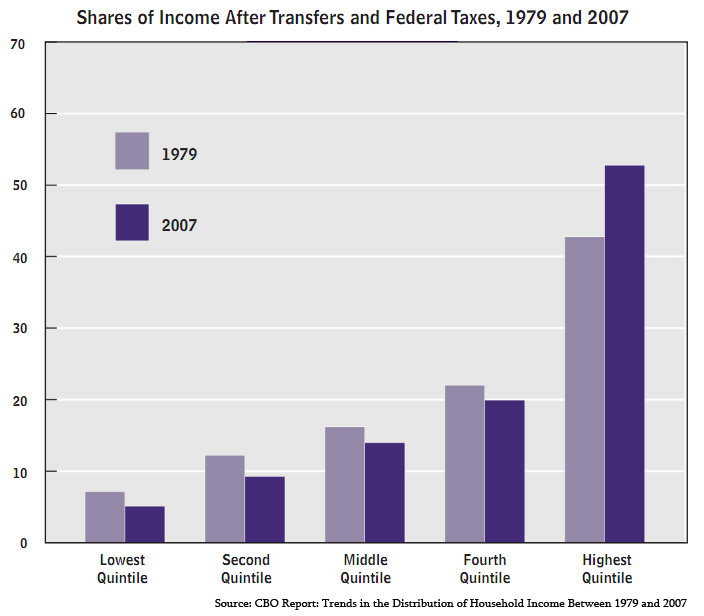 Because the super wealthy don't actually work to generate their income, wages as a share of national income has been declining for just as long.  What that means is less and less money is being earned by workers, and that's bad for the economy because workers spending money is what fuels economic growth.  Consumers earning more money means that they can buy more goods and services, increasing the effective demand in an economy.  Seems pretty simple, right?  Well, yes, it is.
But Brian, if wages have been stagnant for 30 years, then why has the economy been growing that whole time?  I'm glad you asked.  The economy didn't tank sooner because people have been supplementing their stagnant or declining wage income with credit and debt.  As a society, America took out more and more, and larger and larger, loans either through credit cards, home equity loans, mortgages, payday loans, and all the other delightful financial products offered by financial institutions intent on making money off of your debt.  Notably, as fake housing wealth grew, people used their homes as ATMs – we're currently seeing how good of an idea that was (and once the housing bubble burst, the $1 trillion of increased demand that was based on it vanished).
As a result of all this borrowing, middle class Americans tripled their debt over the last 30 years.  As we all know, when debt rises, service on the debt rises.  That is yet another mechanism that sucks dollars from a local economy and puts it in the bank account of CEOs, exacerbating the income inequality problem (always remember that when millions of people have been losing their jobs since 2007, Wall Street managed to find $145 billion to pay in bonuses in 2009 alone).
Yes, there's more to the story, there always is.  But here we are, discussing the budget deficit and the national debt when the real problem is that average workers are getting screwed, they haven't been making enough money to keep pace with the increases in the cost of living, virtually all the wealth accumulates into the hands of the few, and Democrats and Republicans continue to let it happen.
We need to put more money in the hands of people who will spend it in the economy – that's the only way jobs will come back.  Why the federal government isn't spending every waking moment developing a strategy for making this happen is beyond me.  Instead we get bank bailouts and financial reform legislation that makes Wall Street happy.
We expect Republicans to screw workers – that's what they do.  But Democrats have, time and again, been complicit in the weakening of the middle class.  And it's no different now.