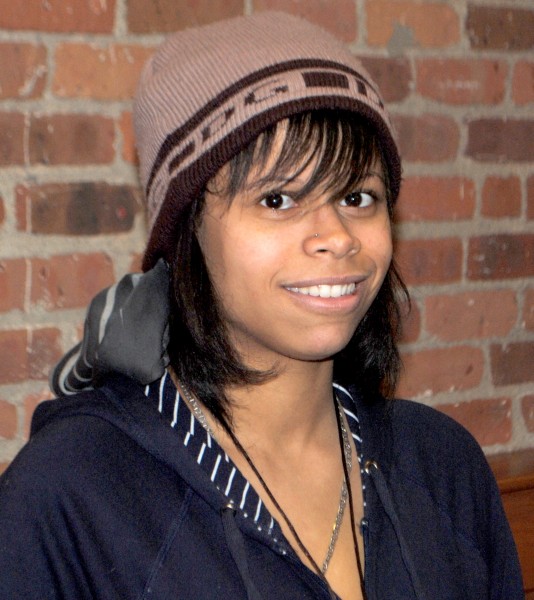 Krystle Martin is the third leader of the unionization effort at the Hilton Providence to lose her job.
Last week Bob Plain ran a piece detailing how two leaders of the unionization effort at the Hilton Providence had lost their jobs. Now that number is three. I previously profiled Adrienne Jones here, and covered Friday's union action here. This is Krystle Martin's story.
Martin is funny and optimistic, with an easy smile and a quick wit. She comes from a family with a strong union and military background. Her grandmother was in the Telephone Workers Union and her father was in the Laborers Union. She's a hard working single mom, part of the blue collar, working class that builds, protects and maintains this country. I seriously doubt that many people reading this would want to switch places with Martin, swapping the challenges of their lives for hers. She lives every day on the edge of extreme poverty, where a missed paycheck or a missed day of work can mean the difference between eating or not eating, sleeping in your home or being homeless.
Martin was first hired to work at the Hilton Providence Starbucks, but after a few weeks she was offered the chance to be a server in Shula's 347 Grill, the restaurant above the Starbucks. For those unfamiliar with food service, this move offers the potential of a big increase in pay. Though being a barista at Starbucks can pay a few dollars more than minimum wage, working as a server in a nice restaurant can bring in much more money in tips, even though you might make less than $5 an hour without tips. Martin needed this opportunity because she was pregnant, and needed the money.
Instead of working as a server, however, after training Martin was given the task of delivering room service, bussing tables (which requires carrying between 35 and 45 pounds of dishes from the table to the dishwasher in back) and expediting orders. (Expediting is adding the final touches to a meal, such as garnishes, and grouping the meals together to be delivered to the guests.) Needless to say, the tips for these duties were not what Martin expected.
Lifting heavy bussing trays full of dishes is not an optimal job for a woman over six months pregnant, but when Martin objected she says, "I received sarcasm from management when I presented a doctors note that stated I couldn't lift more than 15 pounds."
After presenting the note, Martin says was approached by a fellow server holding a bucket of clean dishes.
"Can you hold this for me, Krystle?" asked her coworker.
Martin took the bucket of dishes, not sure exactly what was going on, but she was beginning to suspect.
"That's fifteen pounds of dishes," said her coworker, "that's what we expect you to carry."
Martin asked for light duty, but was denied. She went into preterm labor twice, at 26 and 34  weeks, but still the hotel would not accommodate her. Customers would stop Martin on the floor of the restaurant and ask her if she was okay being so visibly pregnant and bussing tables. Martin just smiled and shrugged it off. She needed the job and needed the money: complaining to customers was not going to help her keep her job. Keep in mind that these are often long shifts of 12 and 13 hours, and breaks were rare, never mind the fact that they are required by law.
Finally, perhaps reacting to the concerns of customers or perhaps having finally found some sense of decency, management deigned to put Martin on light duty which consisted of hostessing and what Martin calls "light" bussing. Light duty lasted for three shifts, because Martin went into labor 11 days early, and delivered a healthy baby girl.
A single mother, Martin could not afford to miss work. Also, the Hilton told her that she might not have a job if she came back to work in six weeks. So less than 48 hours after leaving the hospital where she gave birth, Martin was back to work at the Hilton Providence Starbucks. Here she ran into new problems.
"Before I gave birth and before I returned to work, I'd stated my intent to breast feed my daughter, and upon my return to work, I immediately stated that I was breast feeding my daughter and would need time to pump milk during my shift."
Working 12 and 13 hour shifts, Martin never got more than two chances (15 minute breaks) per day to pump her breast milk, and despite the law saying that she should be given a secure and designated area for the purpose, she was forced to pump her breast milk in the restroom of the coffee shop, "so that I wouldn't be too far away from the store at the time."
This is when serious talk of forming a union started to percolate among the hotel staff. According to Martin, "Management reprimanded us when we spoke out about mistreatment within our departments, inadequate working conditions, labor issues, unfair/illegal labor practices, tip theft and discrimination."
Searching for a second job to supplement her income was also a difficult option.  Martin says was told that if she secured a second job she would have to tell the hotel management so that they could cut her hours.
"I told management that I was not going to tell them if I did get another job or not, because it was none of their business. I said that whatever I do with my time, while off the clock, and away from the Hilton is my personal life. It is my personal business, and it is not their concern. Management insisted that I was required to tell them if I got another job, because they didn't want me working so much and intended on cutting my hours if I did."
Of course, if the hotel paid decent wages and treated its employees with respect and dignity, workers like Martin might not need a second job.
On February 17 of this year, Martin says she was interrogated by her department manager, regarding "signatures." It was obvious that management knew she was a member and leader of a union committee and was out collecting signatures from her coworkers with the intent of forming a union. The next day Martin says she was told by Hilton Providence Human Resources Manager Amanda Robataille that she was being suspended, pending termination. Martin says that Robataille had returned to work in early January after taking six weeks off for maternity leave.
Martin was suspended just four hours before the hotel worker's first public action: the attempt to deliver a petition to the hotel management declaring the worker's intent to form a union. Though delivery of the petition was rebuffed by Hilton management, a union was formed that day. Now the pressure needs to stay on The Procaccianti Group, the company that owns the Hilton, so that the union can be recognized and contract negotiations begun.
After the union action Martin was reinstated in her job, only to be suspended again a week later. As she awaits a decision as to whether or not this suspension is permanent, Martin has learned that the Hilton Providence has already run a job listing searching for her replacement. Effectively, she's been fired.
"I am tired of not being able to afford both child care and rent, even though I work more than 30 hours a week," said Martin. "Most of the days I work, I am working shifts in excess of 12 hours, without being able to take a break, because there aren't enough employees on shift for me to be able to do so. I don't receive welfare, housing assistance, WIC, or section 8. I live in a building that is contaminated with lead paint, but I am being told by other landlords and realtors that because I don't have enough verifiable income, I'm unable to move into a new place. Because I don't have a realistic and livable wage, I cannot afford to live in a healthy home, which my daughter, myself, and every other human being in the United States is entitled to.
"I am fighting for fairness and respect. I am fighting for the recognition of the hard work that workers do on a daily basis. I am fighting for fair wages, so that my coworkers and I can afford to provide for our families. More importantly, I am fighting to be allowed the ability to be the mother that my daughter needs and deserves."
Krystle Martin: Another single mom union organizer fired by Hilton Providence

,