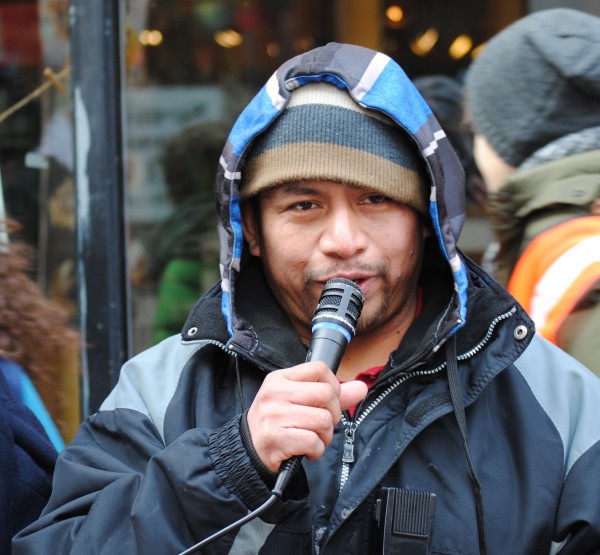 Workers declared victory today after Teriyaki House management finally gave into the pressure of direct action and paid their employees the money the US Department of Labor stipulated.
Teriyaki House workers and their supporters once again protested outside the restaurant in Downtown Providence during lunch to demand that the restaurant pay its employees thousands of dollars in unpaid wages. During the last protest, just before Christmas, Teriyaki House management and lawyers agreed to pay Fidel de Leon, Emilio Garcia, Vicente Lobos and Pedro Gomez their back wages (and damages) as stipulated by the US Department of Labor, by January 22.
As the workers and supporter, organized by Fuerza Laboral and RI Jobs with Justice (JWJ) marched in front of the restaurant on Friday, dissuading customers from eating at the restaurant, the manager of Teriyaki House came out and discussed surrender terms with JWJ executive director Michael Araujo. After Araujo spoke with Teriyaki House's lawyer on the phone, the restaurant manager headed directly to the US Department of Labor offices downtown and paid.
Minutes later, the unpaid employees, who had been fighting for what they have been owed for years, emerged holding checks. It was a surprising and joyous end to a long and difficult battle for fair pay.
This was the fourth demonstration at Teriyaki House over this issue. For years workers were not being paid minimum wage or overtime for 70-85 hour work weeks. You can see the demonstration and its successful conclusion in the first video below. In the second video, Heiny Maldonado of Fuerza Laboral talks about the power and necessity of direct action against a system that does not empower workers against their employers. Keally Cieslik provided the English translation in both videos.