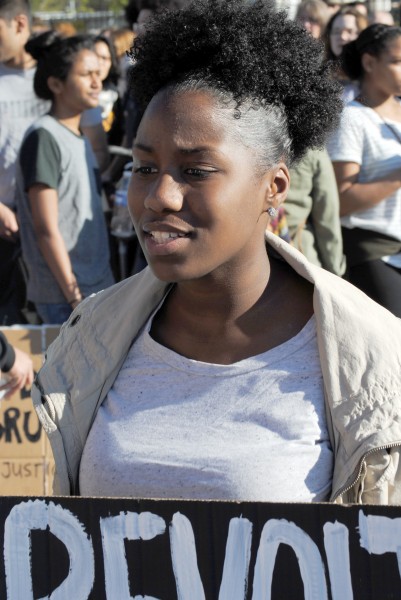 Over 500 people march through the streets of Providence as part of Saturday's Black Lives Matter march in solidarity with Baltimore. Judging from the enthusiastic and mostly positive response of the people watching or encountering the march, the messaging of the movement is starting to penetrate the general population.
What is that message?
I will let those who organized and participated in the march explain for themselves.
"When we chant Black Lives Matter, we are bringing forward voices that are normally ignored. Historically ignored. Presently ignored. To push back and tell us All Lives Matter is to also be complicit with this hetero-patriarchal, white supremacist society…"
"My son Joshua was… what I am going to say is that…" began Suzette, torn with emotion, "my son had the shit beat out of him for whatever apparent reason… on a basic routine traffic stop… and uh… the end result is that the pain which I'm feeling right now… to say to your son that there is going to be no justice…"
"In my life I've had many experiences with the police in this city, in every neighborhood in it, and it's never been pleasant. It's been funny sometimes, but, it's always been very intimidating and scary because I didn't know what was going to happen. A lot of times, it was very humiliating. A lot of times it was kind of vicious and painful…"
"We know that the police [in Baltimore] have been charged with something, and what they've been charged with is one thing, but the main goal is that when they go to court, we want to make sure that when they go to court that they're prosecuted for what they've been charged for…"
"Don't be afraid to say 'Black Lives Matter.' We know, it's been proven to us time and time again that white people matter. We know that. It's in our face every effen day…"
"You see gentrification of the West Side, well now its the West Side," said Chanravy, "It used to be called the West End, right? But because this development is coming in, now it's the West Side. That's when you know the white folks are moving in, right?"
Note the police car now filming the speakers through the fence.
Three speakers from PrYSM spoke in favor of the Community Safety Act (CSA). "It is a city ordinance that will create measures within the Providence Police department that will make it easier for us, the people, to fight back. The CSA will prevent them from profiling based on race, gender and immigration status. The CSA will create a community board that will make sure that they stay in line. The CSA will make it harder for them to conduct searches on us. The CSA will make sure they don't work with ICE to throw us into the deportation machine. The CSA will restore due process rights for many young people accused of being in a gang…"
Radames Cruz performed his spoken word piece, "Can I Live?"
"When we stand up this time, we must not sit back down. That's what they're waiting on. They're trying to wait us out, right? they tried to wait Ferguson out. They're trying to wait Baltimore out. They're saying 'We're just going to wait them out.' That's the human tendency…"
"I had a pretty bad experience with the Providence police. At 19 years of age I was going through a depressive time in life and I walked up on a bridge and thought that I wanted to end it all. But I felt like, maybe the police could help me. So I called the police and they came over, 3 or 4 of them, and while I'm on this bridge, over the highway, I hear a police officer yell in the background, 'If you're going to jump, then jump.'"
"A few years back I was in a very toxic relationship and my boyfriend of the time, he beat me up pretty badly. I didn't have access to a phone, but he took advantage of him calling the police. The police came, I thought I was going to be okay because I had the bruises. I was bleeding. I had the scratches and all the marks. So I thought I was okay. Long story short I had an officer tell me that there is no such thing as self defense because my ex-boyfriend had a bite mark on his arm. So I was arrested. I was booked. I sat in a jail cell for hours until they posted bail…"
 "The brother said, 'by any means necessary' but my question to you is, How far are you willing to go? Because our history says, anything that has been built, it must be destroyed. And the only way you're going to destroy that is through bloody force…"
A song from Putu, (Putugah Takpaw Phenom) was next. "Have you ever heard the revolutionaries cry, 'How come you let our revolutionaries die?'
The event was closed out with a final song.
Voices from PVD Black Lives Matter march in solidarity with Baltimore

,