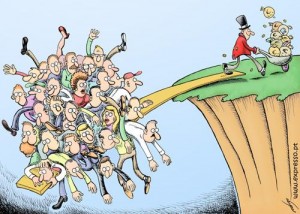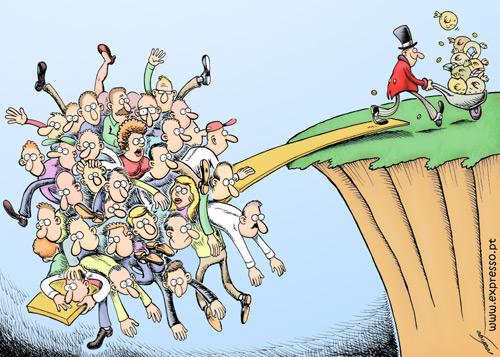 Wage inequality has been growing astronomically over the past 30 years. This is a fact. Anyone claiming otherwise is either ignorant or lying or both.
Can you tell I'm getting tired of having to "prove" stuff that is so obviously factual? Well, in case you couldn't, I am tired of it.
In fact, even the winners in this zero-sum game have tacitly begun to admit that wage inequality is growing. For the last couple of years, the main counter-argument put out by the lackies of the very wealthy has become that, yes, inequality is growing, but it doesn't matter.
That's a lie, too.
Growing wage inequality was one of the primary causes of the collapse of 2007/8. It remains a primary cause of the ongoing Great Recession. Since the vast majority of wage earners were finding their salaries stagnant, if not shrinking, these same people had to rely on credit to finance many of their purchases in the so-called "Bush Boom" of the naughts. I say "so called" because, for the first time since the end of WWII, the median salary at the end of the "boom" did not reach the median salary at the end of the previous boom. That is, median salary in 2007 was lower than it was in 2000/01, before the mild recession that occurred at the end of the 1990s. This is stark proof that wages, for the vast majority of people who actually work for a living (as opposed to living off dividend income, or carried-interest) was not growing despite what Republicans were touting as a "booming economy".
And spare me the morality play about the evils of credit, about how it shows a lack of moral fibre, how it demonstrates that people are too lazy, or too insistent upon immediate gratification, that they can't wait and save to make purchases, blah, blah, blah.
Here's a secret: Had people done this in the naughts, there wouldn't have been enough demand to create even the wimp "Bush Boom". The US would have remained mired in the recession that started in 2000 throughout Bush's first term. I can say this with complete confidence because the only thing that fueled the expansion of the economy—such as it was—was that people were buying stuff on credit. This created the demand that created the expansion.
And demand is the key component. Corporations are swimming in money. They have so much money they can't figure out where or how to spend it. More, they can borrow billions and billions of dollars at de facto negative interest rates. And yet, corporations are not spending money. If "supply-side" economics had any validity, businesses would be spending money like drunken sailors right now, and they would have been doing so for the past five years, ever since we hit the point of negative interest rates. Why haven't they spent money? No, the answer is not the uncertainty of possible tax or regulatory changes. That is an absolute crock. If you actually read the business press (as opposed to listening to FOX News) you will realize that businesses are reluctant to spend because they do not believe there is sufficient demand for more products.
Demand. There you have it. The engine that truly drives economic expansion. My grandfather had a succinct way of describing conditions during the Great Depression: "Sure, a loaf of bread only cost a nickel. But what the hell, you didn't have a nickel."
In case anyone doesn't get the point: it doesn't matter how cheap things are because of a large supply. If people still don't have the cash to buy stuff, it doesn't get bought.  IOW, there is no demand.
Demand.
And that is what is holding up recovery as the Great Recession enters its fifth—or is it sixth?—year. Got that, people? Sixth year. Lehman Brothers collapsed in 2008, while G. W. Bush was still president. Before Obama had been elected, let alone before he had taken office. Got that? George Bush was president. Hank Paulson, former head of Goldman Sachs was Secretary of the Treasury. Not Obama, not Geithner (although he was President of the NY Fed at the time).
Inequality matters, people. It matters a lot. It keeps demand down. When demand is down, people lose jobs. When people lose jobs, demand drops further, and more people lose jobs. This is called a death spiral. It's essentially the same phenomenon, but going in the opposite direction, of what caused the inflation of the 1970s. And no, cutting wages DOES NOT HELP. Cutting wages is the equivalent of throwing people out of work. Yes, perhaps fewer people will lose their jobs outright, but demand will still decrease. It may—or may not—take a little longer, but the same result is attained.
So the answer is that people need to make more money. But what is happening instead is that the wages of most people are being cut. It's the time of the year when a lot of companies are doing compensation planning. For many big companies, this is now a very simple process. A few people, maybe ten percent of the corporation's employees, will get nice raises, maybe 5%, probably more. The rest will get nothing.
That is, the rest of the employees will get a pay cut. Their pay will remain the same, but even 1-%-2% inflation will erode stagnant pay. The result is a de facto pay cut. The result is a further decrease in demand. Funny: Republicans scream about how tax increases will hurt the economy because they will take money out of people's pockets. But a pay cut does exactly the same thing, and yet Republicans fall all over themselves to demand—DEMAND—pay cuts.
It's enough to make you suspect that Republicans don't care about the economy at all. All they care about is tax cuts. All they care about is making the wealthy even wealthier. Even if it means the rest of us slowly slip into  poverty.
This is because their wealthy corporate masters want tax cuts. So Republicans bow and scrape and say "Yes, Master" and move heaven and earth to give their masters what they want.
The rest of us can pound sand.