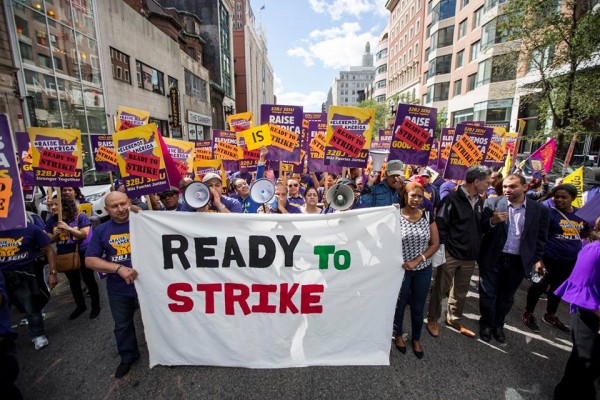 Some 500 Rhode Island janitors – who work at TF Green Airport, CVS, Providence College, Fidelity and other places in the Ocean State – could go on strike if their labor union can't come to an agreement with their employer this week on a new contract. The more than 13,000 janitors of the 32BJ SEIU voted on Saturday to strike if they can't agree on a new contract with the Maintenance Contractors Association New England by September 30, the last day of the existing contract.
"We don't take the possibility of a strike lightly but the workers who make Boston and New England strong are ready to do what it takes to protect their families," said Roxana Rivera, vice president of 32BJ SEIU.
Eugenio H. Villasante, an organizer with 32BJ SEIU said there are about 500 SEIU janitors in Rhode Island – Fidelity: 60+; Providence College: 60; TF Green: 32; CVS: 25; Bank of America Center (100 Westminster St., owned by Joe Paolino): 19; Bank of America: 10; One Financial Plaza building (downtown Providence): 16.
"These workers clean key pillars of the Rhode Island economy," said the news release. "The mostly immigrant workforce has a long history of fighting for good jobs in the area."
According to the news release, "SEIU and the cleaning contractors still remain far apart on any new agreement involving wages and workload issues."
Boston Mayor Marty Walsh "said he would not cross the picket line into some of Boston's most iconic buildings if Boston janitors decide to strike," according to the Boston Herald. Governor Gina Raimondo and Providence Mayor Jorge Elorza have been asked by RI Future if they would honor the potential picket lines. Neither could immediately be reached for comment.
CORRECTION: According to Providence College, their custodial staff is organized under a different branch of the SEIU and is not a part of 32BJ SEIU contract negotiations. "Our cleaning contractor has a contract with a different SEIU Local (615 CTW) which represents only the custodians on our campus," said PC spokesman Steven Maurano. "That contract does not expire for another several months."
500 RI janitors plan for strike - TF Green, CVS could be affected

,