The Clear River Energy Center, a gas and oil fired energy plant proposed by Invenergy for Burrillville, Rhode Island is not needed, according to the results of ISO New England Forward Capacity Auction, the results of which were released last Monday.  The results of the auction means that cost of energy in Rhode Island in 2019-2020 will be reduced and these lower costs have nothing to do with the energy offered by Invenergy.
[Note: Jerry Elmer had this to say in an email received after the story ran: "Energy and capacity are two different commodities.  (The third component of electricity price is 'ancillary services.')  The price of both energy and capacity are elements of the ultimate price of electricity that is paid by ratepayers (electricity customers) but energy and capacity are not the same thing.  (That is, energy and capacity are not the same thing as each other; and energy and capacity prices are not the same thing as the price of electricity.)  As components of the overall electricity market in New England, energy represents about 80% of the value (price) of electricity and capacity represents about 20%.  (Ancillary services are a very, very small part of the price.)]
Forward Capacity Auctions (FCA) are somewhat complicated, and making sense of the ISO NE press release was a big lift, so I talked to Jerry Elmer, senior staff attorney at the Conservation Law Foundation (CLF), to get my head around it.
"Invenergy is planning to build a 900 – 1000 MegaWatt (MW) plant," said Elmer, "Only 485 MWs cleared in that auction and got a capacity supply obligation (CSO). So what that tells you immediately is that the plant is not needed in RI. If the plant were needed it would have gotten a CSO of 900 MW."
Hold up. Let's take this a little slower.
The way electrical prices are determined in Rhode Island is through a series of annual auctions. Most recently we completed FCA 10 (Forward Capacity Auction 10). Power companies bid to supply energy and ISO NE takes the best offers at the lowest price. The companies in the bidding are then obligated to supply that power during the time period specified and at the determined price. This is the capacity supply obligation (CSO).
In the most recent auction, FCA 10, Invenergy cleared only 485 MWs, about half of what their proposed 900-1000 MW plant could produce.
Under the rules of ISO NE, a certain amount of energy must be locally sourced in each zone. Here in Rhode Island, we are in the South Eastern New England (SENE) zone and the amount of locally sourced power required is 10,028 MW.
As Elmer explained the math, "The zone cleared the auction at 11,348 MW. So do a thought experiment: Invenergy got a CSO for 485 MW. Take 485 MW out of 11,348 MW and you've got 10,843 MW in the zone without Invenergy. You've got a surplus. You've 500 MW more than you need, without Invenergy."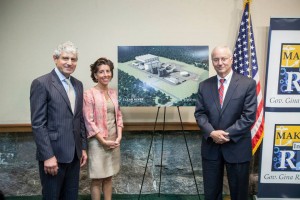 This is not what Invenergy expected when they presented their plans for the new plant. "If you look at Invenergy's filing with the Energy Facility Siting Board (EFSB)," says Elmer, "they were talking about how desperately the plant is needed, it's needed in RI to keep the lights on, and that the clearing price of capacity is going to be much higher in RI than in the rest of the ISO NE pool, what they call 'rest of pool.'"
In the previous auction, Rhode Island did not fare so well. The reason for this is that between FCA 9 and FCA 10 the zones were restructured. "It used to be, up until this auction, there were two separate zones," said Elmer, "There was SEMA RI (SouthEast Massachusetts and RI), NEMA Boston (SouthEast Massachusetts and Boston), and 'Rest of Pool,' but for FCA 10, the ISO collapsed what used to be the NEMA Boston zone with the SEMA RI zone and made one SouthEast New England (SENE) zone.
"The interesting thing here is that Invenergy has been planning this plant for a couple of years and it is true that in the two previous actions, FCA 8 and FCA 9 one year ago, the SEMA RI zone cleared much higher than rest of pool. Invenergy was right about that. So they start this plan for this plant, and they figure that they are going to  absolutely clean up financially.
"This is an import constrained zone, clearing price is double what the rest of the pool is, we're going to put 900 or 1000 MW into this very high priced zone, we are going to make a fortune. This was their thinking.
"Between FCA 9 and FCA 10, ISO NE collapsed the NEMA Boston and SEMA RI zone into a big zone, and now, instead of the zone that includes RI being very constrained with a shortage of power, we now have an excess of power in the zone."
Drawing the lines of the various zones has nothing to do with politics, said Elmer, "It's nothing you can vote on or put political pressure on. It's physics! It's where the transmission does or does not exist."
Let's look at this from Invenergy's point of view for a minute: Invenergy "thought they were supposed to have 900 or 1000 MW cleared, at a very high price," said Elmer, "instead only half the plant cleared, 485 MW. What cleared went at exactly the same price as rest of pool, no premium, zero. The rest of pool came out 25 percent lower than last year's clearing price, and the zone here [in Rhode Island] cleared at about half the price of last years price for this zone."
This is great news for Rhode Island, but for Invenergy, not so much. "Here's the kicker," said Elmer, "Invenergy got a CSO for 485 MW. That means they have got to build the plant. They are on the hook. They posted a huge bond with the ISO called Financial Assurance (FA) just to be allowed to play in the auction. So now Invenergy has the worst of all worlds.
"It only sold half its capacity to the ISO and at a much lower price than anticipated, but they still have to build the plant, or as an alternative, they could sell their CSO between now and June 1, 2019 in one of the annual or monthly reconfiguration auctions that the ISO runs, and get out of the business altogether and not even build the plant.
"They are now forced to build the plant that will be much less profitable and lucrative than they thought, or get out of it."
Currently, the EFSB  is holding hearings to determine whether or not the plant will be built. In their filing with the EFSB, Invenergy's two major arguments in favor of the plant were, "The plant is needed for system reliability, to prevent blackouts, to keep the lights on" and "The plant will end up lowering the bill for ratepayers," said Elmer.
"What the results of the auction shows is that both of Invenergy's main arguments are just wrong. They are false," said Elmer, "The plant is not needed for system reliability, it is not needed to keep the lights on and the net effect on the clearing price is either zero or very close to zero because the plant wasn't needed."
"CLF is presenting three witnesses to the EFSB," said Elmer, "one witness for each of the three arguments that Invenergy is making in favor of the plant. We've got one witness on the system reliability issue: Is the plant needed to keep the lights on? The answer is no and this auction proves it.
"We have a separate witness on the money issue. Will building the plant save money for rate payers? This auction result says no, the answer is no.
"And then we've got another witness on the climate change/carbon emission issues whose testimony is going to be that if the plant is built, it will be impossible for the state to meet its carbon emission reduction goals."
This information is "absolutely all relevant to the EFSB. In fact, Invenergy is the party before the EFSB that raised these issues! CLF is not raising these issues. We're addressing these issues because Invenergy raised them. In legal terms, Invenergy opened the door on each of these issues, we're just walking through it. We're not raising these issues, Invenergy's raising these issues. The reason we've got witnesses addressing these issues is because Invenergy raised them!"
The arguments in favor of the plant that we are hearing from our elected leaders, such as Senator Sheldon Whitehouse, that Rhode Island suffers from an energy "choke point" and needs this plant for grid reliability, is simply not true any more, if it ever was. Given this new information, Senator Whitehouse should now feel very free to change his position on the proposed plant.
The low energy prices available now allows Rhode Island the luxury of planning a just transition to renewable energy sources and the time we need to concentrate on efforts to lower the amount of energy we need. Political leadership is needed to take advantage of this opportunity, and should not be squandered on an unnecessary fossil fuel plant that will harm Rhode Island's environment and keep us addicted to fossil fuels for at least another half century.
Recent power auction proves Burrillville power plant unneeded

,