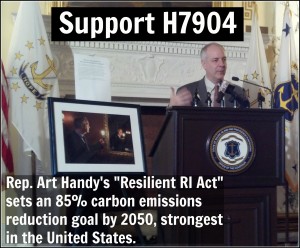 The newest Intergovernmental Panel on Climate Change (IPCC) report was released today, and it isn't pretty.
The Guardian summarized it well, saying
"The report from the UN's intergovernmental panel on climate change concluded that climate change was already having effects in real time – melting sea ice and thawing permafrost in the Arctic, killing off coral reefs in the oceans, and leading to heat waves, heavy rains and mega-disasters.

And the worst was yet to come. Climate change posed a threat to global food stocks, and to human security, the blockbuster report said.

'Nobody on this planet is going to be untouched by the impacts of climate change,' said Rajendra Pachauri, chair of the IPCC.

Monday's report was the most sobering so far from the UN climate panel and, scientists said, the most definitive. The report – a three year joint effort by more than 300 scientists – grew to 2,600 pages and 32 volumes."
The bottom line is that nowhere near enough action has been taken to reduce global greenhouse gas emissions, and the urgency to do something increases with each passing day. Rhode Island can be considered among those that have failed to act, but that could change this year.
While Massachusetts and Connecticut passed comprehensive climate change legislation over 5 years ago, Representative Art Handy's Climate Solutions Acts have consistently fallen flat at the State House. This year Handy, who chairs the House Environment and Natural Resources Committee, has taken a new approach.
His Resilient Rhode Island Act of 2014 keeps the same ambitious goals for mitigating RI carbon emissions and adds new provisions for climate adaptation, helping the State's cities and towns coordinate in preparing for rising sea levels, increasing flooding, and more extreme weather events. By adding the adaptation piece, Handy hopes to build a stronger coalition of support behind the effort, as storms like Sandy and the floods of 2010 have convinced businesses, officials and residents alike that we need to be more prepared.
Considerable momentum has already been generated for getting this bill passed. The Coastal Resources Management Council has been conducting outreach around its Beach Special Area Management Plan (SAMP), Governor Chafee recently created the Executive Climate Change Council, the fantastic Waves of Change website was released, and Senator Whitehouse's continued campaigning at the federal level is being heard here. The Resilient RI Act even has its own information filled website. Additionally, Brown University is devoting resources to the effort, and it is Sierra Club RI's number one priority.
In fact, I started a petition in support of the bill yesterday that already has close to 150 signatures on it, and I invite you to be a part of creating even more momentum on Smith Hill. CLICK AND SIGN
Time is of the essence. The Resilient Rhode Island Act is going to be heard this Thursday in Handy's committee. If you can, I urge you to come out and voice your support. The IPCC report and our own senses demand this urgency.
If we had had the wisdom to pass such legislation twenty years ago when the science supporting it was already demanding such action, we would not have suffered so badly from Sandy's glancing blow, and we would have created the framework for building a clean energy economy that would have meant thousands of good paying jobs. Better late than never, right? Just ask Sheldon: