Governor Gina Raimondo announced her support of bills in the General Assembly that would raise the minimum wage in Rhode Island to $10.10 an hour at a press conference held at the United Food and Commercial Workers Local 328 on Silver Spring St. in Providence. The location was chosen because Raimondo's grandfather helped found the union 77 years ago.
Raimondo pledged to support the bills introduced in the Rhode Island House by Representative David Bennett and in the Rhode Island Senate by Senator Erin Lynch.
"Nobody who works full time should have to live in poverty," she said, even as she acknowledge that raising the wage to $10.10 won't be enough. That's why her budget, to be introduced on Thursday, will be "focused on creating more family-supporting jobs."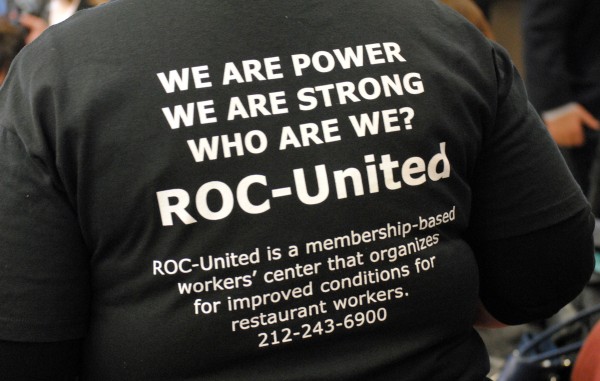 Activists from the Restaurant Opportunity Center (ROC United RI) were present at the press conference and encouraged by the Governor's support, but "they are also arguing for an increase in the wage of tipped workers who have worked without an increase in base pay for more than two decades," according to their literature.
In an apparent nod to their concerns, Raimondo has tasked the new head of the RI Department of Labor and Training, Scott Jensen, to head up an investigation into "tipped minimum wage enforcement" and review restaurant labor law compliance after the present legislative session ends.
RI AFL-CIO President George Nee said that "we have to keep the momentum going" on raising the minimum wage, citing the "tremendous problem with income inequality."
Deborah Norman, owner of the restaurants Rue De L'Espoir and Rue Bis said that "as a business owner I support an increase in the minimum wage to at least $10.10. It would not hurt my business in any way," a very different message from that presented by the Rhode Island Restaurant Hospitality Association at a recent House Labor Committee hearing held to discuss Representative Bennett's bill.
Raimondo supports a $10.10 minimum wage

,