In an effort to help transform the vacant and decrepit Masonic building into the posh, downtown hotel it is today, the 2003 Providence City Council granted a 19-year property tax "stabilization" to the project developers. Now years later, low-wage employees of the Renaissance Hotel are imploring the current City Council to implement a hotel-industry minimum wage, while Renaissance owners benefit from a $1.4 million tax break this year alone.
Renaissance room cleaner Santa Brito said Providence residents such as herself are picking up the tax slack for the Procaccianti Group, the Cranston-based multinational real estate holdings firm that bought the property in 2012.
"The City increased the tax rate on my house $427.28 this year," she said. "I cannot understand why [the hotel] is getting a break on its taxes worth millions of dollars, when I have to pay more in my own taxes. There is something very wrong when the richest corporations are getting breaks and regular Providence residents are paying more, and they're not even giving good jobs to our city in return."
The Procaccianti Group, , will pay $284,219.18 in property taxes this year, said City Tax Assessor David Quinn. Without the stabilization, he said, it would owe $1,689,548.18 this year.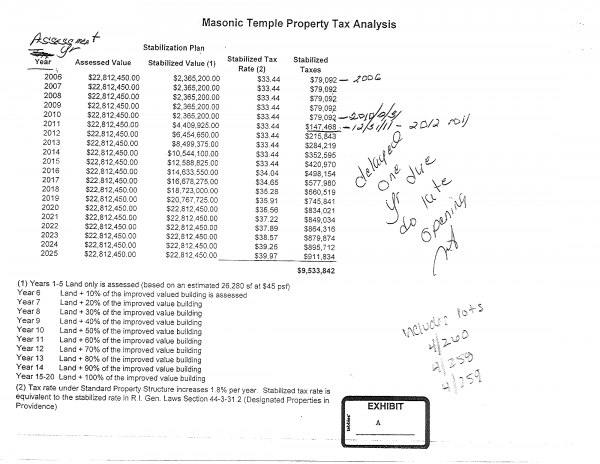 Tax stabilization plans, Quinn explained, are utilized to incentivize new development and to smooth tax fluctuations as city properties go through redevelopment.
According to the 2003 act passed by the Council, which you can read here, the Masonic Temple was a state-owned building that provided no tax revenue to the city. It says construction of the building was left unfinished in 1929 and in 2003 was "in a state of great disrepair."
The act also says the state Economic Development Corporation (now dba as the Commerce Corporation) predicted the hotel would employ "140 people with an estimated payroll of $4 million, plus healthcare benefits." Earlier this year, hotel workers and labor activists petitioned the Council to terminate the tax break based on the Procaccianti Group's failure to provide living-wage jobs. The Council did not act on the matter.
Quinn said the Procaccianti Group will likely seek a second tax stabilization for an extended stay hotel it plans to build across the street from the Convention Center. Procaccianti also owns the downtown Hilton Hotel, and Quinn said the company is currently contesting its tax bill on that property.
"Hopefully they will compromise towards me," Quinn said. "I've already compromised toward them. I have a simple philosophy: if people pay their fair share most people pay less."
Cranston-based Procaccianti Group owns 3 hotels in Providence, 8 in Rhode Island and a total of 59 in 22 states, according to its website. Its local hotel employees have been fighting for better wages and working conditions for years. Recently they petitioned the City Council to approve a hotel-industry specific minimum wage of $15 an hour.
A Council subcommittee canceled a meeting to consider the proposal last week and has yet to reschedule it. If the Council doesn't act on the matter, activists could get the issue on the November ballot by collecting 5,000 signatures. The issue has political implications for Mayor Angel Taveras, who is running for governor. He'll need activist support to overcome Raimondo's fundraising advantage, and if he wants activist support he'll need to show progressive leadership.
When asked for comment, his staff said the Taveras wants to study the issue and would not like to comment on it further.