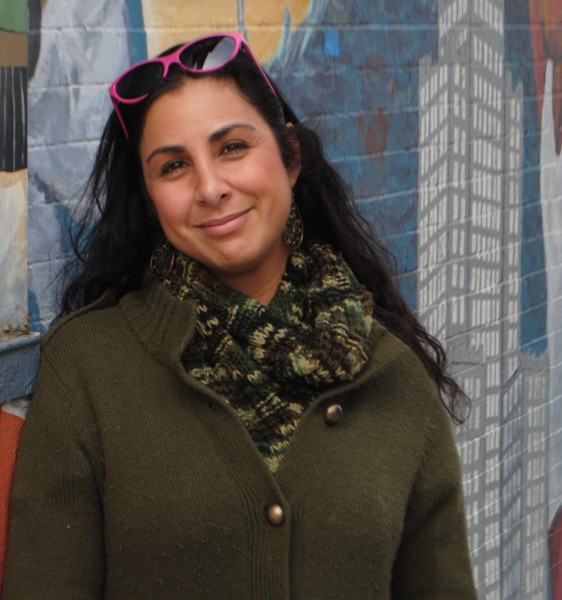 Adrienne Jones says she was fired from her job at the Providence Hilton for supporting the effort of her colleagues to form a union.
She's a lifelong Providence native and a graduate of Hope High School, CCRI and the Boston Bartending School. A divorced mom with a seven year old son, she has that easy gift of conversation and storytelling all the best bartenders have.
"I used to be anti-union," says Jones, "I was a business student at CCRI, and in those classes we were taught that unions might have been necessary in the past, but that today modern labor laws provided more than enough protection for workers. My eyes have been opened. Now I'm fully committed to unions and fighting for worker's rights."
Jones has worked as a bartender for The Procaccianti Group (TPG) for the last 6 years. From March 2008 to October 2013 she worked at the Wyndham Garden in India Point, then moved to the Hilton Downtown.
"When I made the move over to the Hilton," says Jones, "I was hoping to work 30-35 hours a week and be able to support myself more comfortably than I was at the Wyndham where I was only working about 20 hours a week. I was looking forward to making a vertical move and ending my dependence on state subsidized programs to help support my son and myself."
Shortly after I making her move, Jones became aware of what she called "abhorrent" working conditions at the Hilton.
"I was made to work 15+ hour days without a break, over 50 hours a week," she said. "Managers refuse to put shock absorbent mats behind the bar to make the long hours on our feet a little easier. Management would leave early on nights when we were unbelievably busy and we needed them most. I could go on just about the problems that happened in the restaurant alone…"
In her many years of working in the service industry, Jones has never witnessed a turnover rate as high as she has seen at the Hilton. High turnover is usually related to employee dissatisfaction, poor pay, unsafe or unhealthy working conditions, lack of promotion and career opportunities or conflict with management, among other reasons.
Jones is not alone in her feeling that employment conditions at the hotel were unfair and even illegal. "Recently, a housekeeper, who is pregnant with twins, brought in a note from a doctor asking her bosses to put her on light duty.  She expressed to her manager that she wanted to work until the end of her pregnancy so she could take her vacation time when the babies were born. However, management completely ignored her request and gave her even more rooms to clean per day."
To the workers at the Hilton, this seemed like retaliation, and worse. "After all," adds Jones, "if she quits before the babies are born, the hotel won't have to pay for her time off, right?"
With complaints piling up about the unfair and abusive employment practices, the employees started to talk seriously about unionizing, to protect themselves and improve their working conditions. Jones found herself on the organizing committee for the union campaign currently going on at the Hilton.
"I have recruited several of my colleagues to sign the union's petition and have attended committee meetings at the union office. On February 18, the union "blitzed" the hotel management by trying to present the petition, which 70% of Hilton employees signed, making the campaign public."
Doug Koenig, the Hilton's General Manager, refused to accept the petition, instead calling on the Providence Police Department and private security to bar union representatives from the hotel. Jones was unable to participate in that action because she was inside the hotel, working at the bar. The bar was extremely busy that night because there was a Providence College basketball game going on at the Dunkin' Donuts Center next door. Event though she was not part of the union action that night, "It was obvious [to the hotel management] that I was a supporter," says Jones.
Working part time at the Wyndham meant that Jones did not qualify to receive benefits. After three months working full time at the Hilton, however, she became entitled to benefits starting March 1st. "Three weeks paid vacation, health/dental/vision coverage and enrollment in their 401K," says Jones wistfully, "benefits I have earned."
Jones was terminated by the Hilton on February 26th, three days before her benefits kicked in. She thinks it was for supporting the union. They accused her of being late for a staff meeting which was scheduled on her day off.
"There had never been any issues with me in the past and this was the first time I had been in any kind of trouble at the Hilton," she said. "It's clear to everyone I worked with that I was terminated for being a Union supporter. I am the third person to have lost their job since then for supporting the Union."
Despite laws that make it illegal for employers to fire workers seeking to form a union,  John Schmitt and Ben Zipperer, in a paper for the Center for Economic and Policy Research, estimate that almost one in seven union organizers or activists can expect to be fired as a result of their activities.
Jones has filed for unemployment and is waiting to hear back from the Department of Labor and Training regarding that. If she is denied, she will have to go through an appeal process before being eligible. In the meantime, she is searching for a new job and she and her son are getting by on her savings.
"I was born and raised in Providence. This is my home," says Jones, "I want to be proud of being a Providence native, but I have been penalized for exercising my freedom of speech. I have filed a case with the National Labor Relations Board (NLRB) and with the attorney for the Local 217. I am hoping to get my job back, be compensated for lost wages and receive the benefits I worked so hard for the past 6 years."
Adrienne Jones says she was fired from Providence Hilton for supporting union organizing effort

,